127 African Youths Get Leadership Training.
by
Aderinola
(
m
):
3:54am on March 13
A TOTAL of 127 youths from nine West African countries – Ivory Coast, Burkina Faso, Togo, Ghana, Nigeria, Sierra Leone among others, who are currently participating in the 2018 Young African Leaders Initiative (YALI)-enhanced leadership skills training and African youths generally, have been challenged to exploit their youthful energy and abilities to work towards a promising future for the African continent.

Prof. Philip Simpson, Director of the Ghana Institute of Manmagement and Public Administration, GIMPA, issued the challenge during an opening ceremony which marked the start of the 4th Nigerian cohort of the YALI programme facilitated by the YALI Regional Leadership Centre (RLC), Ghana in close partnership with the Administrative Staff College of Nigeria, ASCON, on Monday, February 26, 2018 at ASCON facility in Badagry, Lagos.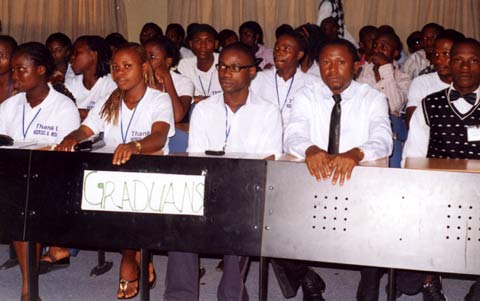 He said: "I wish to remind you that as young persons, you must draw upon your energy, drive and enthusiasm in a positive way. The evidence of your youthfulness is in your vitality and labour. "The future of the continent is in your hands and it is important to remember that. "You must remember that you are born Africans, you will remain Africans, you must not give up on Africa and you must raise the African cause."

YALI is an intervention programme by the US Government to invest in the next generation of African leaders through support from the United States Agency for International Development USAID, MasterCard Foundation and other private sector partners.

Dr. Shola Safo-Duodu, the Director, YALI Regional Leadership Centre (RLC), disclosed that 5,000 entries were received upon the commencement of the 4th Nigerian cohort application while 2,140 people scaled through the application stage to the online interview and only 150 applicants were shortlisted after the interview.

According to her: "As part of our sustainability and making sure that many more people are trained, there is an online component developed to ensure selected participants have two weeks online work.

"We put 150 people on the online programme and only 127 completed it within the deadline. So, within the two weeks, they covered leadership, ethics and accountability, and contemporary issues affecting Africa."

She explaind that the first three days of arrival will be spent recaping all the things that they learnt online while participants will spend ten days in their preselected specialisation trajectories and the last week will feature a simulation where real life case studies will be designed for which they would make presentations to determine what skills they have been able to acquire during the course.

Further, Shola said, "After they are finished here, we will pair them with a mentor who will work with them for a while. And for those who are young enough and without work experience, we will give them internship opportunities and for those who are working or do not need internship, they need to undertake a community service project and write a report."
Viewing this topic:
1 guest viewing this topic