SPECIAL: Gain Admission Into 200 Level To Study In Any University Via IJMB | CAMBRIDGE | JUPEB | NO JAMB | LOW FEES | Call 07063085343, 08086347092 To Register!
SPECIAL
: Corpers, give PEACE OF MIND to parents during the NYSC by sending the GridCodes (egAAAA-AZ5R) showing where you camp/stay/work/socialise |
DOWNLOAD
Android Users
|
IOS Users
Wang Lingmei is sitting in front of a rehab training machine in an elderly care centre in China and playing an electronic game.

Using a machine that looks a bit like an electronic piano with a TV screen attached instead of a music score, the 84-year-old is reaching out to touch virtual fruits by moving a handle as part of a daily exercise routine to recover mobility after fracturing her right arm and leg in a fall a year ago.

"The game is interesting and makes me feel happy," she says in a Shanghai dialect. "We have a therapist to monitor our condition while using it, so I am not afraid of this technology and machine. After all, it's a new thing for me."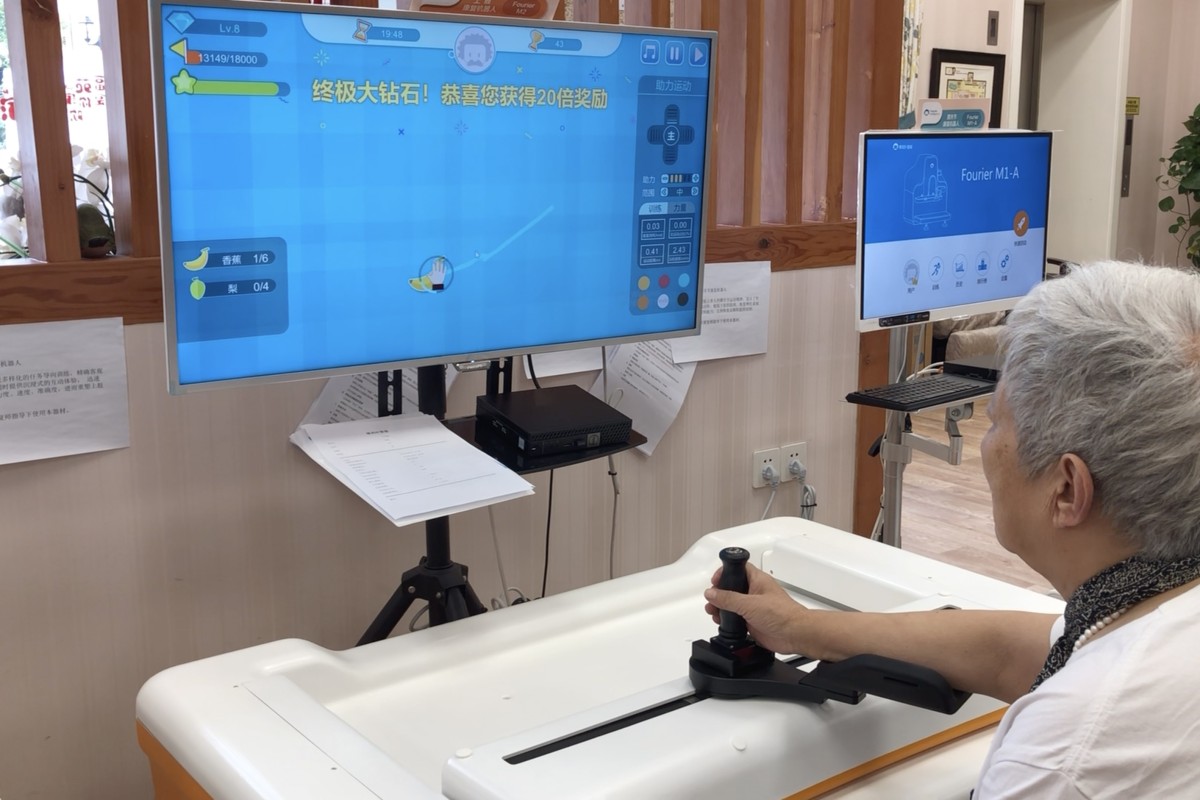 Wang is one of 30 patients who live in the Lujiazui Elderly Community Centre, which is located in one of the most popular areas of Shanghai's Pudong district.
The use of AI in the global health care market is expected to grow from US$2.1 billion in 2018 to US$36.1 billion by 2025, according to a report by research firm MarketsandMarkets.

China is greying and the number of over 60s reached 250 million in 2018 out of a total population of about 1.4 billion, meaning the country needs to address how a growing proportion of elderly people can be supported by a creaking welfare system.

In 2019, about two working people paying pension contributions support one non-working retiree, but by 2050, the dependency ratio is expected to drop to one contributor supporting one retiree, according to a recent report by the Chinese Academy of Social Sciences.

That is why a growing number of scientists and tech companies in China are working on artificial intelligence (AI) applications to make the country's health care services more efficient.
More broadly, the use of AI in the global health care market is expected to grow from US$2.1 billion in 2018 to US$36.1 billion by 2025, according to a report by research firm MarketsandMarkets.

The Lujiazui Elderly Community Centre is also the first institute in the district to use smart mattresses with sensors to help monitor the health of patients, and the data can be shared with medical staff and family members. Patients can even be located by GPS in case they are 'lost'.

Before having the electronic rehabilitation machine, which is made by Shanghai-based technology start-up Fourier Intelligence, the centre had to hire a therapist to visit every day to help patients with rehab exercise.

Although the therapist is still needed, the machine frees up the human from repetitive, time-consuming work.

"The therapist would direct the patient's hand to an object and help them repeat the move around 500 times in 20 minutes," said Gu Jie, CEO of Fourier Intelligence. "It would completely occupy the therapist's time, and for the patients it wasn't exactly fun."

The new machines can also monitor three patients at a time, improving efficiency, said Shi Junjie, director of the Lujiazui Elderly Community Centre.

Beijing is pushing the adoption of smart technologies in many areas, from catching criminals and detecting cancers to smart city infrastructure.

Yitu Technology, a leading Chinese AI start-up, last year introduced a new AI cancer screening tool aimed at reducing the workload and improving diagnostic capabilities for radiologists around the world.

In first-tier cities like Beijing, Shanghai, Guangzhou and Shenzhen, many elderly people are already receptive to smart elderly care.

A survey

by the Tencent Research Institute shows more than half of those aged between 50 and 64 support the use of new technologies to compensate for a shortage of traditional, elderly care.

Wang Lingmei, an 84-year-old, sits in front of a rehab machine, playing an electronic game in Lujiazui Elderly Community Centre. Photo: Minghe HuWang Lingmei, an 84-year-old, sits in front of a rehab machine, playing an electronic game in Lujiazui Elderly Community Centre. Photo: Minghe Hu
Wang Lingmei, an 84-year-old, sits in front of a rehab machine, playing an electronic game in Lujiazui Elderly Community Centre. Photo: Minghe Hu

Wang Lingmei is sitting in front of a rehab training machine in an elderly care centre in China and playing an electronic game.

Using a machine that looks a bit like an electronic piano with a TV screen attached instead of a music score, the 84-year-old is reaching out to touch virtual fruits by moving a handle as part of a daily exercise routine to recover mobility after fracturing her right arm and leg in a fall a year ago.

"The game is interesting and makes me feel happy," she says in a Shanghai dialect. "We have a therapist to monitor our condition while using it, so I am not afraid of this technology and machine. After all, it's a new thing for me."
ADVERTISING
inRead invented by Teads

Wang is one of 30 patients who live in the Lujiazui Elderly Community Centre, which is located in one of the most popular areas of Shanghai's Pudong district.
The use of AI in the global health care market is expected to grow from US$2.1 billion in 2018 to US$36.1 billion by 2025, according to a report by research firm MarketsandMarkets.

China is greying and the number of over 60s reached 250 million in 2018 out of a total population of about 1.4 billion, meaning the country needs to address how a growing proportion of elderly people can be supported by a creaking welfare system.
In 2019, about two working people paying pension contributions support one non-working retiree, but by 2050, the dependency ratio is expected to drop to one contributor supporting one retiree, according to a recent report
by the Chinese Academy of Social Sciences.
SUBSCRIBE TO Inside China Tech
Get updates direct to your inbox
By registering, you agree to our T&C and Privacy Policy

That is why a growing number of scientists and tech companies in China are working on artificial intelligence (AI) applications to make the country's health care services more efficient.
More broadly, the use of AI in the global health care market is expected to grow from US$2.1 billion in 2018 to US$36.1 billion by 2025, according to a report by research firm MarketsandMarkets.

The Lujiazui Elderly Community Centre is also the first institute in the district to use smart mattresses with sensors to help monitor the health of patients, and the data can be shared with medical staff and family members. Patients can even be located by GPS in case they are 'lost'.
Huawei envisions the world in 2025 and it involves a lot of robots

Before having the electronic rehabilitation machine, which is made by Shanghai-based technology start-up Fourier Intelligence, the centre had to hire a therapist to visit every day to help patients with rehab exercise.

Although the therapist is still needed, the machine frees up the human from repetitive, time-consuming work.

"The therapist would direct the patient's hand to an object and help them repeat the move around 500 times in 20 minutes," said Gu Jie, CEO of Fourier Intelligence. "It would completely occupy the therapist's time, and for the patients it wasn't exactly fun."

The new machines can also monitor three patients at a time, improving efficiency, said Shi Junjie, director of the Lujiazui Elderly Community Centre.

Beijing is pushing the adoption of smart technologies in many areas, from catching criminals and detecting cancers to smart city infrastructure.

Yitu Technology, a leading Chinese AI start-up, last year introduced a new AI cancer screening tool aimed at reducing the workload and improving diagnostic capabilities for radiologists around the world.
This China-born founder is seeking US$500 million IPO for his 'cloud robot' start-up

In first-tier cities like Beijing, Shanghai, Guangzhou and Shenzhen, many elderly people are already receptive to smart elderly care.
A survey
by the Tencent Research Institute shows more than half of those aged between 50 and 64 support the use of new technologies to compensate for a shortage of traditional, elderly care.

In China, it is also becoming harder to find qualified care-givers even though the industry is relatively well-paid.

Regulations are patchy and many nannies suffer from poor job-satisfaction, even with a 15,000 yuan (US$2,000) average monthly income in first-tier cities like Beijing and Shanghai, according to Xinhua.

Nursing houses in Shanghai, such as Lujiazui, cost about 5,000 yuan (US$690) a month for residents, with some top institutes costing 20,000 yuan.

Chen Xiaoping, a professor at the University of Science and Technology of China (USTC), has been developing service robots which can provide services such as medicine reminders, for over 10 years.

"We started working on service robots in 2008 but I think it's impossible to achieve general AI robots," said Chen in an interview during the Chongqing Smart China Expo last month.

"We work on integrated AI by splitting the work of a nanny into different set tasks as there are huge differences between family situations."

Chen's team showcased the medicine reminder service at the 2019 International Joint Conference on Artificial Intelligence last month in Macau. The technology is not as simple as setting an alarm.

"Sometimes elderly people just stand up and walk around [after receiving the reminder], so the robot needs to remind them again. Sometimes they take the medicine, so it needs to avoid repeating the reminder," Chen said.

Chen hopes elderly care robots will become more popular in the next three to five years with a price tag lower than 10,000 yuan (US$1,400) although he admitted that the technology is not advanced enough at the moment.

"We haven't fully achieved success. But the positive results so far encourage us to keep working on it," he said.
Source: https://www.scmp.com/tech/science-research/article/3026370/playing-video-games-robots-just-one-way-technology-re-shaping
Ngstudentforum.com Is The Next Big Hits Student Forum In Nigeria
Viewing this topic:
1 guest viewing this topic
Disclaimer: Every Nigeria Student Forum member is solely responsible for anything that he/she posts or uploads on Nigeria Student Forum.
- Copyright © 2016 - 2020. All rights reserved.