SPECIAL: Gain Admission Into 200 Level To Study In Any University Via IJMB | CAMBRIDGE | JUPEB | NO JAMB | LOW FEES | Call 07063085343, 08086347092 To Register!
A Nigerian guy on twitter, explains his experience and what he knows about Obinwanne Okeke AKA Invictus Obi, He wrote the following tweet on his twitter page, with this account: https://twitter.com/chikenyelum

Obinwanne Okeke is a founder of Invictus Group & according to the company website, he has been extensively involved in sourcing, structuring, implementing & monitoring various private equity investments in African & Australian markets & has over 10 years of investment experience.

AKA Invictus Obi holds a Bachelors and a Master's degree (MA) in International Relations and Counter-Terrorism (cum laude) from Monash University, Australia and has received several leadership honorary awards from local as well as international organizations.

Invictus Obi has received several leadership honorary awards from local as well as international organizations and has been recognized by Forbes as one of the 30 entrepreneurs under 30 to watch. The leading publication also featured him on its cover for June 2016.

Update: Obinwanne Okeke AKA "Invictus Obi" seems to have deleted all his active social media account. (Instagram and Facebook).

And some of his friends just deleted photos they took with him on their page.

So don't bother searching.

So let get back to how I knew about Obinwanne Okeke AKA "Invictus Obi".

If you were active on Facebook four years ago, and you aligned with the top influencers then on the platform, there's 98% chance you must have heard of Obinwanne Okeke AKA "Invictus Obi".

He was very visible within the Writers/Political/Gossip top influencers group on Facebook.

Obinwanne Okeke AKA "Invictus Obi" had close friends too, like literally very close friends too who I think knew about his dealings but kept supporting him because they were profiting from it.

From known published novelist & writers, journalist, Lecturer.

Just many.

Even one of your MCM on Twitter here bullied me on Facebook at some point because I tired pointing out something fishy about Obinwanne Okeke AKA Invictus Obi two years ago.

One of his very close friend and right man was also accused of Fraud on facebook two years ago by people he had dealings with (Nigeria and Abroad). He denied it but truth be told, there's something fishy about the very young man.

There's also someone who's Obinwanne Okeke AKA "Invictus Obi" associates too with with no trace of his source of his income.

He has appeared on International Newspapers and Media too.

He's your MCM here on Twitter too.

Obinwanne Okeke AKA "Invictus Obi" is just one of the powerful group of guys engaged in this fraud.

There's another one too. He operates a company here in Nigeria. A tourist/entertainment-related company and an E-commerce of some sort too.

He operates mostly from U.S. & Calabar.

These particular guys studied in the United States too. Came to Nigeria Five years ago straight from school without any known source of income and launched a tech company. He was Obinwanne Okeke AKA "Invictus Obi" right man.

He even bullied me on facebook & called me a poor rat.

So I met him at the University of Nigeria, Nsukka when he came to check on a final year Computer Science Student who according to him he needed him to work on a software project. I helped linked him up to the guy at CEC, UNN sha. This is prior to finding out he doesn't seem legit


When I reached out to this Obinwanne Okeke AKA "Invictus Obi" friend on an update about his project, he blocked me on facebook. A few months later I saw pictures of his newly launched tourism company on Invictus Obi wall.

That dude needs to be investigated sha.

Lol. I just check the guy's Instagram pictures, he has deleted pictures he took with Obinwanne Okeke AKA "Invictus Obi".

I can't find his facebook but I will dig deep.

Why am I giving out this information? There's way more serious fraud around Obinwannne's circle.

A well-known celebrity is also on this table too, he visited Obinwanne Okeke AKA "Invictus Obi" on the launch of his Energy Company. ( Invictus Energy) in Abuja.

He's Obinwanne 's paddy.

Dude is living large at the moment with no recent hits to his credit or endorsement/show

He was in the United State when Obinwanne Okeke AKA "Invictus Obi" girlfriend/wife gave birth to a child.

He regularly comments on Obi's Instagram post and he's the only celebrity that comments on his Instagram post.

There's even a stronger fraud ring at the entertainment industry that uses record labels as cover up.

Nigerians, you see this entertainment something is deep. Like very deep. You all do be amazed at the level of fraud in that sector. 80% percent of fraud attributed to Nigeria and Nigerians are under that sector. Mostly using record label as cover-up.

My third year in UNN, my CGPA was about 4.59. My aim was first class so I can be retained as a lecturer. But my contact with some of these guys landed me to 2.1. My final year GPA was 2.9. The problem started when I traveled to Abuja to met Obinwanne Okeke AKA "Invictus Obi".

I first booked to attend a conference at the ICC, Abuja. After the conference, I tried to link up with him but was later directed to another guy. This dude recently trended on twitter for something cool recently. So he told me that his associates needs a quality PHP Developer.

And I needed ten days to get him. I was promised one million(which never happened). So I forgot about book and studies and started looking for the good PHP developer in UNN. I had to travel to Umuahia for the same purpose.

Ended getting him two good software developers.

Instead of paying me the money, I got blocked on facebook by this Obi's friend.

P. S. Obinwanne Okeke AKA "Invictus Obi" cabals and associates are highly educated, well exposed and doing good.

So they are good at it that is while it's very much difficult to find out.

Nigerians, you remember this thread? I read the thread and wept. You guys should look for that Victor of a guy. His real name is Victor. He operates from Owerri and seems studied at Nekede. A deep investigation will unravel more on the fraud in Nigeria

Victor seems to be the poster boy of a powerful fraud ring operating East (Owerri, PH, Umuahia).

Why him? He can link up with the Umuahia ring operating from the Fed. The University of Agriculture, Umudike from there you can proceed to ask and Calabar.


We need to fight this fraud of a thing. And they Tech guys need to lead in this fight. These guys are now coming for the tech sector. They are now launching start-ups and companies and are making waves on the press.

Just locate Victor and arrest him.

I'm trying to get the name of one of d developers I linked up then. This was four years ago. Dude is chilling in Atlanta working on a healthcare startup at the moment. He did his Master at Michigan State University.

He profited from this email fraud as he led the ring from UNN.


I was even arrested alongside with him by NDLEA along umuahia when on my way to Calabar via Uyo with this developer. Reason for the travel was to meet with an Obi's friends. I was later allowed to go after they found nothing with me. He was detained as they saw a conversation...

with Obi's friend on email-related manipulation. But was later released after he gave them some money. This happened around July 2016. November 2019 I got a hint they got fund from a female Filipino journalist who I suspected they defrauded her company.

Info I got suggested that the money was over 700,000USD. The developer guy was paid N4 million and I learned he got some money too from Obinwanne Okeke AKA "Invictus Obi" and left Nsukka for his Masters at Michigan State University. A guy is in Atlanta working on a health startup.

Victor is the only person that can unravel more. He operates in Owerri and Umuahia.

Also, check out the company launched few weeks to 2016 calabar carnival & was active in the process. The company operates on different front, E-commerce, consultancy, tourism, hospitality etc.

The fb post and most importantly the comment section of the post could give you guys a clue. Charles seems to notice his steady lifestyle back then.


The entertainment sector is in mess. Guys are destroying Nigeria and Nigerians name and reputation. 80% of Wire, romance, credit cards fraud are all from them. One recently returned from the United States few days ago.

They use movies, record labels, and music as a cover-up.

So I'm excited about this FBI case. I just found out that one of your favorites MCM here on twitter is linked to this case. I trust FBI to unravel it.

Even your favorite WCW blogger is also a close friend to Obi. She just deleted the photo her photos with him on Instagram.

Your favorite MCM here also appeared on Forbes online as a respected figure. He helped Obinwanne Okeke to get that press feature on Forbes. Million was spent to get Obi on the cover of that Forbes. Your Favorite WCW blogger knew about the deal. Ask her.

Continue the Reading Here https://twitter.com/chikenyelum/status/1162473738589343745
Ngstudentforum.com Is The Next Big Hits Student Forum In Nigeria
TRENDING STORY: How high tech FBI investigation led to the arrest of Forbes celebrated Nigerian Obinwanne Okeke known as Invictus Obi , for $12m wire fraud during his recent trip to the U.S.
5 ways FBI arrest of Obinwanne "Invictus Obi" Okeke could affect Nigerian Entrepreneurs

FBI arrested Nigerian Entrepreneur Obinwanne Okeke after a 13-month investigation
He was arrested for conspiracy to commit fraud to the tune of $11 million
We list 5 ways his arrest could affect future up-and-coming Nigerian Entrepreneurs
What happened?

Sometime between the 2nd and 6th of August, 2019, the U.S Federal Bureau of Investigation (FBI) arrested the CEO of Nigerian firm Invictus Group, Obinwanne Okeke, for conspiracy to commit computer fraud and wire fraud. This was after a 13-month investigation. Read the affidavit from the FBI agent that investigated Okeke here

Why was he arrested?

Unatrac Holding Limited, which is the UK Export Sales office for Mantrac Group (itself a subsidiary of Construction and Mining equipment manufacturer Caterpillar), filed a report with the FBI in June 2018 stating they had been compromised via a phishing email that fraudulently acquired sensitive log-in details of their Chief Financial Officer (CFO). Posing as the CFO, the intruder then sent wire transfer requests to the Unatrac internal Finance team leading to several transfers amounting to $11 million (N3.9 billion).


The FBI opened their investigation in July of 2018 which led them to Mr Okeke.


What is a Phishing email?

Phishing emails are fake emails sent with the intent of fraudulently acquiring sensitive log-in information.

Who is Obinwanne Okeke?

Born on November 9th, 1987, Obinwanne Okeke was an internationally celebrated Entrepreneur and CEO of Invictus Group. The firm's business interests include Private Equity, Oil & Gas, Agriculture, Construction, Real Estate, Energy solutions, and more. In a 2012 interview he referred to Invictus as an Entertainment company which suggests it has morphed since then. He is the 17th child of a Polygamous father who reportedly passed away when he was 16.



5 ways his arrest could affect Nigerian Entrepreneurs:

1. Reduced media coverage of up-and-coming Nigerian Entrepreneurs

Okeke's claim to fame in the business community happened after he appeared on the cover of Forbes Africa in 2016. That year he was featured on Forbes' "30 under 30" list which profiles young, up-and-coming entrepreneurs under the age of 30. In 2018, he was featured on BBC's "Focus on Africa" and described as an "inspiring" entrepreneur. In light of his arrest, local and international media houses might be less willing to feature up-and-coming Nigerian entrepreneurs which would limit their exposure and thus affect the reach of their potentially positive impact.

2. Reduced invitations to impactful leadership gatherings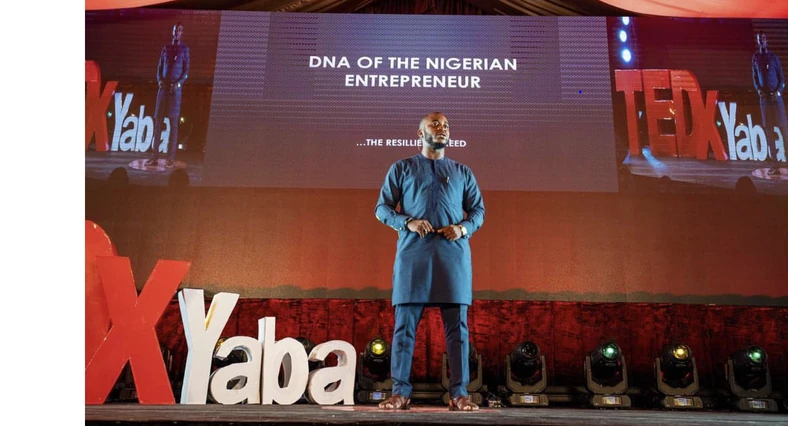 In 2017, Okeke was a Panelist at the Wharton Africa Business Forum. The annual forum is organized by the University of Pennsylvania's Wharton School of Business, one of the most prestigious Business schools in the world that boasts Alumni like Billionaire Investor Warren Buffet, Technology entrepreneur Elon Musk, Google CEO Sundar Pichai, and U.S President Donald Trump. The forum brings together thought leaders to discuss ways of pushing Africa forward in innovation and other fields.

A year later, Okeke was a speaker at Yaba TEDx, in Lagos, Nigeria. TEDx is an international program of local, self-organized events that hold discussions for the purpose of spreading ideas.

The arrest of Okeke could see organizations think twice before inviting future entrepreneurial stars from Nigeria.

3. Possible delayed Visa application reviews for Nigerian travelers

With aggressive protectionist attitudes to immigrants prevalent around the world, the last thing businesses travelers from Nigeria need is another reason for extra scrutiny when applying for visas to travel overseas. Back in May, Business Insider SSA wrote about the U.S removal of interview waivers for visa renewals in Nigeria. Known as "Drop box," the reason given by the U.S was to "provide more efficient customer service and promote legitimate travel."

The affidavit from the FBI agent that investigated Okeke for 13 months noted that he was in the U.S at the time and his visa was expiring on August 6th. It was therefore important for him to be arrested quickly before he left U.S jurisdiction. Looking ahead to other Nigerian entrepreneurs applying for visas for business travel, this case might lead to delays when their applications are being reviewed.

4. Possible challenges to funding for future Nigerian Startups
Access to capital is one of the biggest obstacles facing entrepreneurs in Nigeria. The arrest of Okeke could lead to Venture Capitalists and Angel Investors avoiding promising Nigerian entrepreneurs because of reputational risk.

5. Possible increased profiling of young Nigerian men by SARS

There have been a number of reports of young men in Nigeria's burgeoning tech industry being unfairly profiled by the Special Anti-Robbery Squad (SARS). Because of the prevalence of internet fraud in Nigeria, young men that are casually dressed and in possession of laptops and other gadgets have attracted attention from SARS. While some of these young men could potentially be "Yahoo boys," ( a colloquial term for internet fraudsters) Okeke's arrest means some innocent men could also be caught up in the Government's drive to rid the nation of this illegal activity due to the latest negative spotlight it places Nigeria under.
Obinwanne Okeke: 9 Facts about Forbes under 30 Nigerian enmeshed in fraud allegations

The social media went into a frenzy after news of a Nigerian entrepreneur Obinwanne (Invictus Obi) Okeke's arrest by the Federal Bureau of Investigation (FBI) emerged.

Okeke, who was accused of engaging in $12m fraud, was arrested by the law enforcement agency after a painstaking investigation.

Legit.ng brings you 9 facts about Okeke.

1. Obinwanne Okeke was born on November 9, 1987 in Ukpor village, Anambra state, as the 17th child of a polygamous father.

2. He was raised by his mother and other relatives before his father's death when he was only 16.

3. Okeke is the founder of Invictus Group.

4. In 2016, the Nigerian entrepreneur was named by Forbes as one of '30 Entrepreneurs Under 30 to Watch'.

5. Okeke holds a bachelors and a master's degrees (MA) in International Relations and Counter Terrorism (with distinction) from Monash University, Australia.

6. While in Australia, Okeke founded Literacy Africa International to raise awareness about literacy problem among children in Africa.

7. In 2017, Okeke was nominated in the Young African Business Leader (West Africa) category for the All Africa Business Leaders Awards ( AABLA).

8. He was listed on Forbes 100 Most Influential Young Africans in 2018.

9. Okeke named his company, Invictus, after one of Nelson Mandela's favourite poems, written by William Ernest Henley, which talks about the undefeated and unconquerable soul of a hard worker, from an impoverished background.

Legit.ng previously reported that the Federal Bureau of Investigation (FBI) in the United States has apprehended a Nigerian serial entrepreneur identified as Obinwanne (Invictus Obi) Okeke.

Okeke, who was listed among Forbes 100 Most Influential Young Africans 2018, was arrested by the FBI over $12m fraud.
Viewing this topic:
1 guest viewing this topic
Disclaimer: Every Nigeria Student Forum member is solely responsible for anything that he/she posts or uploads on Nigeria Student Forum.
- Copyright © 2016 - 2020. All rights reserved.