The name Dr Mrs Caroline Ajuya rings a bell in the medical sector . Doctors, nurses recall her days as Permanent Secretary in the Ministry of Health in Delta state as " a no nonsense PS " who drove laudable reforms in the health sector.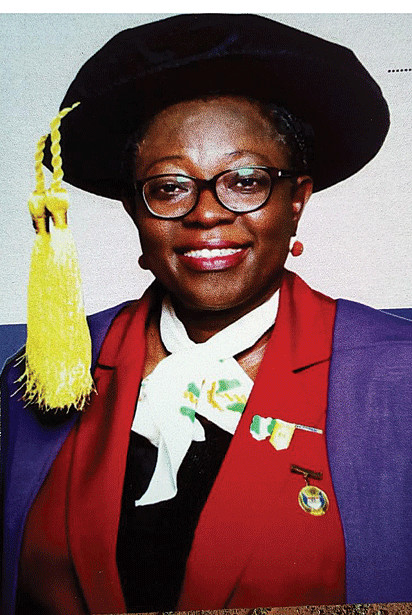 Caroline Ajuya
Ajuya, a Chief in Itsekiri kingdom will deliver her 1st Valedictory lecture series on "A journey from Medicine to Management" Tuesday November 6th this year at the Chevron Great Hall, off NPA Expressway, Warri, Delta state by 1pm.
In this interview ahead of the lecture she speaks extensively on her meritorious years in the Civil service, some of the commendable reforms she initiated in the health sector and how her colleagues who initially misunderstood her professionalism later turned round to hail her when they realized that she meant well for the sector.
She started by recalling her early days in Warri and expressed joy that her valedictory outing will be in the same city. Said the Fellow of the National Institute of Management: "I started humbly from Warri and I am proud that at the end of the day, my valedictory story will also be told in Warri."
Her story has been that of service and many are proud of her achievements.
" I joined the service January 23 1985 and I worked in the Central Hospital , Warrri as a Medical Officer 2, that is the lowest cadre you can enter into the civil service and thank God today I rose to the highest position in Central hospital, became the Permanent Secretary, Hospital Management Board July 2009 and I was there for about seven years until January 2016 when I was posted again to Adult Non Formal education. I thank God because of the similarity of the two postings.
These postings enable you offer service to humanity. For me its been so good to have the opportunity to tell my story and it will be told on Tuesday November 6th this year at Chevron Great Hall, off NPA Express road, Warri by 1pm. I titled it 1st Valedictory lecture series . I am happy for the media coverage . . I am happy to have the opportunity to tell this my story on November 6.It's a book , talking about my valedictory. Its my contribution to humanity, knowledge. It's a book that will be found in libraries, the West African college and National College and other reputable libraries." She was all smiles.
Asked if she could recall any ugly experience she had while trying to implement her good intentions, she said, "O Yes. Everybody knows me, that I am a disciplinarian. And this has not gone well with a lot of people . I recall when I was Permanent Secretary, the doctors protested that I must go. They were shouting that Dr Ajuya must be posted out. But they were surprised that the public, politicians were for me, House of Assembly members were for me. The governor was for me. Suddenly the medical doctors started looking inward. It was then they realized the beauty of the reform I was driving into the system, they realized I had gained so much confidence of the public and the political leaders. Today, I am just humbled to say If you talk about growth of the health sector in Delta state you must see what I have done".
Dr Ajuya was to speak on the funding of state hospitals
"Funding is one issue we are doing well in the state. .. We have introduced the concept of internally generated revenue where hospitals retain 90 percent of what they generate as funds. So you as the Medical Director has to work hard for your hospital to have enough to run the place . When I was Permanent Secretary I moved the Internally Generated Revenue when this concept was approved in 2011 from 8 million to N136 million. Hospital like Warri could now make up to ten million , twelve million. You had to pay your bills, electricity bill. This came from the revenue . Your hospital generates and keep 90 percent of the fund for development of the place and you send ten percent to the treasury. There is another thing governor Ifeanyi Okowa has added, he said the ten percent that was going to treasury should go to the Hospitals management board to enable them continue their monitoring evaluation.
" You are a frank talker, be frank. Would you say you liked the attitude to work in many of the general hospitals. You rush emergency cases to some of the hospitals and the response is very poor. Was the attitude commendable when you were PS?
"I am going to be frank, I think there is decline, something has to be done. When you want to enforce discipline, you must be disciplined because people will only emulate you. Our monitoring and evaluation must always be on ground. With nostalgic feelings I hear the monitoring team is not in force at the moment. There is no way you can have 64 hospitals all over the state and you will not have a monitoring team to evaluate what they do
"In my office that time and it still happens I started "closed user group lines", one hundred lines. It is still on , MTN. As soon as I entered my office I called the various hospitals. So when I called I insisted on speaking with the MD from the lines. This way everybody was on ground. I am not the one saying there is decline, the comment is there in the public space. In terms of discipline there is decline.
"Every one must complement the good intention of the governor. Let me also say that the general hospitals are secondary health care services. What we are talking about in the state is universal health coverage. This is what the governor is pursuing, he wants to ensure that our primary health sector is functioning very well. This will reduce pressure on the secondary health sector.
The government has been so magnanimous to allow them ( general hosptials) retain 90 percent , the onus is now on them to work very hard. Why cant you make twenty million naira in a month like Central hospital Warri . And if you have that amount you will retain N18 million that month to fund your hospital, buy the bigger generators. So long as you don't allow most of the test that should be done in the hospital to be taken outside am sure you can raise enough to fund your hospital. Look at some of our hospitals within 50 meter radius you find private laboratories , xray areas, you find almost ten pharmacy shops. This is why I say you must listen to my valedictory on journey from Medicine to Management You must have the leadership quality.
The funding of the hospital is good if the management know how to go about it.
Any passing comment
on the quality of doctors from schools these days?
The truth is that the teaching quality is totally dependent on the individual. We are still having a number of well taught students. There is nothing you are looking for that is not in the internet. So you have access to rich information onine. I am satisfied atleast about fifty percent of the doctors coming out are good. We see them at their clinical studies. We see them at the wards as part of the clinical studies.
Any word for the medical council
My Medical and Dental Consultants Association, my word for them is that they must, in their training of doctors, also start equipping them with leadership qualities and commitment. And to the government in the country we cant be training so many doctors and yet exodus is on the increase either because they are not finding place for residency or other things. You know what salaries are still like at now.
With the Universal Health Coverage, I hope the medical profession will benefit from it in a long time . If the Universal Health Coverage works out very well, people are made to pay minimally for getting the best on the long run I think the hospitals will be better funded and the nurses and all who work there will enjoy better.
There is just one place in the world where they have practiced it for fifty years and it is Japan. Everybody is happy with it there.
Eight states have keyed into it . One of the first states is Delta. Governor Okowa keyed into it because he was a Senator when it was proposed and he was one of those that championed it.. This is the best thing that can happen in the country. You will hear my story that day.
Any word for Deltans on attitude to medicare
It is very important . I will say we should exercise a lot of caution, gone are the times we took things without knowing details. We need to raise the level of educational consciousness in the country. As we continue to educate our citizens they will be better informed. They will ask the right questions.
Source :
www.vanguardngr.com/2018/11/what-doctors-must-do/
@seuncoded
Viewing this topic:
1 guest viewing this topic