Varsities Fix Different Benchmarks As Controversy Trails JAMB's Cut-off Points As .
by
iamseun
(
m
):
5:21am on September 2
AS controversy continues to trail the 120, 100, and 110 cut-off marks set by the Joint Admissions and Matriculations Board (JAMB) for admission at various institutions, authorities in schools have pegged their cut-of marks at between 160 and 200, describing the JAMB's benchmarks as ridiculous.

After the announcement of the 120 cut-off point for universities, 100 for polytechnics/colleges of education and 110 for #monotechnics, many university authorities have met to decide their institutions' cut-off marks.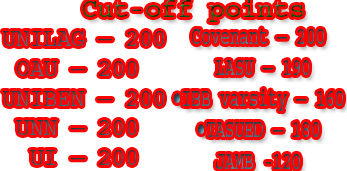 cut-off points

While many vice chancellors described the 120 benchmarks for admission as too far below their institutions' standard, other stakeholders posited that the mark would further destroy the already falling education standard.

As at the time of filing this report, Vanguard investigations revealed that the University of Lagos, UNILAG, has fixed its cut-off point at 200, the University of Benin, #UNIBEN, 200; University of Ibadan, UI, 200; Obafemi Awolowo University, 200; and University of Nigeria Nsukka, #UNN, 200.

Medical and Law students Other institutions that have also declared their cut-off points include the Lagos State University, LASU, which pegged it at 190; Tai Solarin University of Education, TASUED; Ibrahim Badamasi Babangida (IBB) University and for Caleb University, admission is a combination of assessment of WAEC scores, moral interview and candidates staying within JAMB minimum benchmark.

#Babcock University's spokesperson, Mr. Joshua Suleiman told Vanguard, yesterday, that admission cut-off point in Babcock varies from one department to another. According to him, while candidates with 120 could be accepted to study in the Arts Department, cut off point for Medicine is 290 and Law 270. He added that admissions have already closed for Medical and Law students.

Similarly, in Covenant University, our sources disclosed that the cut-off points depend on the course the students apply for. He said that though 200 is the cut-off point for admission, for those who wish to study computer science, the cut-off point is 250. In his reaction to the 120 cut-off point, the Vice Chancellor of Ibrahim Badamasi Babangida (IBB) University, Lapai, Prof. Mohammad Nasiru Maiturare, said that the institution has adopted 160 as its admission cut-off point for the 2017/18 academic session. He said the decision was reached after a thorough analysis of the Joint Admissions and Matriculations Board (JAMB) reduction of admission mark into Nigerian universities at 120.


Maiturare explained that the institution has over 13,000 applicants for admission this year with 2,930 being the expected allotment from the National Universities Commission (NUC).

Though he applauded JAMB for its policies for 120, he, however, insisted that his school would not admit any student who scored bellow 160. He maintained that every university has the right to decide on its admission policy which will be based on maintaining standard of education and its policy guidelines as well as its quota system. Explaining how he arrived at his 160 cut-off point, Maiturare disclosed that the university management had carried out statistics of UTME applicants for 2017 which stood at cut off points or benchmarks indicate that 2,459 candidates had 160-169, 1,690 candidates had 170-179, while 2,971 candidates scored 180 and above, with the total number of applicants to the institution being 7,120 applicants.

That was how we arrived at 160," he added. Maiturare noted that a total of 4,661 applicants will be required for admission considering 170 and above cut off points and 2,971 for 180 and above while in 2016 there were about 7,065 candidates for 180 and above cut off point. On his part, the Vice-Chancellor, Tai Solarin University of Education, TASUED, Professor Oluyemisi Obilade, who frowned against at the 120 JAMB's, insisted that #TASUED would not go bellow 180 mark for admission.

Freedom to decide He maintained that TASUED would not go below 180 under his watch, adding that even in the United States, the Ivy League universities and community colleges were given the freedom to decide. For the University of Ibadan, its authorities have insisted also that the premier university which will be 70 years old November 2018, cannot reduce the standard.

An official stated: "UI still maintains her position in academic excellence and standards in order to continue to aspire towards becoming a world-class university. It should worry us as patriots that candidates who scored just 30 per cent in the UTME can be admitted into some of our universities.

Yet, we complain of poor quality of our graduates. You can hardly build something on nothing. Poor quality of graduates "The consolation here is that since JAMB started conducting this qualifying exam in 1978, UI has never admitted any candidate who scored less than 200 marks out of the maximum 400 marks." Also speaking to Vanguard, yesterday, a source close to the authorities of University of Benin, (UNIBEN), disclosed that the institution would not admit any student who scored below 200.

He said: "UNIBEN general cut-off mark for JAMB is 200 and that is a minimum cut off mark accepted for admission into UNIBEN." The source added that the 200 cut-off was not a guarantee for all courses or that UNIBEN will offer admission to anyone that meets the minimum cut off mark.

Source: www.vanguardngr.com/2017/08/varsities-fix-different-benchmarks-controversy-trails-jambs-cut-off-points/
You can win me, You can loose me, But don't ever try to use me
#BOB
Viewing this topic:
1 guest viewing this topic